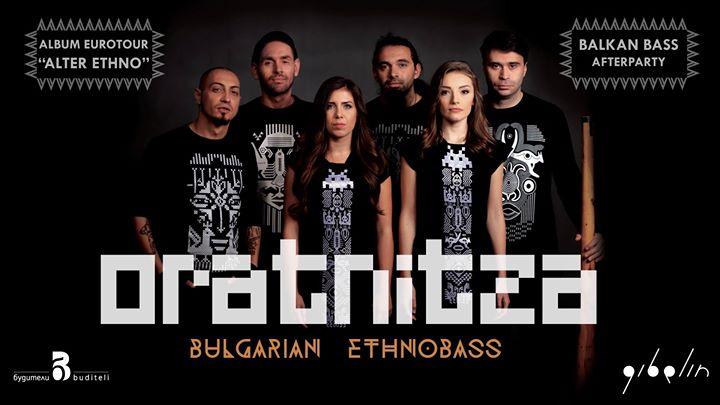 TONIGHT: Oratnitza (Balkan Ethnobass) Album Tour / Cologne
Fusion Embassy, Gibelin and Клуб Будители / Klub Buditeli proudly present the Bulgarian "ethnobass" sensation, ORATNITZA. Expect an explosive mix of atypical Balkan melodies and rolling basses.
Oratnitza Balkan Ethnobass Album Tour "Alter Ethno" 2019
MTC Cologne (Zülpicher Str. 10, 50674 Köln)
08.05.2019 (Wednesday)
Doors: 19:00
Live: 20:00
Balkan Bass Afterparty: 22:00
Tickets: www.gibelin.reservix.de
Presale: 10,90 € + taxes
At the door: 18,- €
Klub Buditeli members: 2 € discount (both online / door)
Oratnitza are six young Bulgarian musicians who share a love for both folklore and contemporary bass genres. They hence call their unique sound "ETHNOBASS". Ever since their birth Oratnitza has been driven by their curiosity to find out what lies beyond the musical status quo. This has made them take Bulgarian folklore on a wild journey. Over the years their repertoire has absorbed colors and scents from the local underground and distant continents alike. Bringing the treasures from their explorations home, they pass on the torch of tradition. Oratnitza's music is a blend of Bulgarian folk melodies, orthodox-style chanting, world music elements, hip-hop, dubstep, trap, D'n'B, and irregular rhythms. Oratnitza interprets Bulgarian traditional songs in a way our generations can truly embrace.
Hristiyan Georgiev – kaval, vocals, melodica, keys
Georgi "Horhe" Marinov – didgeridoos, gayda
Petar "Buny" Yordanov – cajon, tupan
Ivan "Popa" Gospodinov – vocals
Asya Pincheva – vocals (Cosmic Voices from Bulgaria)
Diyana Vassileva – vocals (Mystery of the Bulgarian Voices)
Press:
****, "Energetic and infectious" (Songlines, UK)
#3 Top World Music CD's (SoundRoots.org)
"hypnotizing melodies and rhythms", " not only infectious for the youth", "wonderfully energetic" (FolkForum.nl, NL)
"unique mix of dubstep, drum 'n' bass, aboriginal motifs and Orthodox chants" (Agenda Magazine, BE)
"would make electronic trance wizards jealous", "The album is an absolute pleasure to listen to", "their take is inventive, fresh and of a high creative standard", "infectious rhythms" (World Music Network)
"The expertly-played didj blends its lively pulse and grinding drone with the meaty, agile percussion and airy kaval…" (fRoots, UK)
"Uplifting, energetic and beautifully vigorous music" (MusicFrames, NL)
"Oratnitza proved a crowd favourite" (Time Out, Malaysia)
"Very innovative world folk that works fantastically" (Heaven, NL)
"Impossible not to be carried away by their trance" (RTBF, BE)
"…the sound seems to come from another world… wonderfully succeeded… powerful music of a quartet that without a doubt also handles live gigs skillfully…" (NewFolkSounds)
"Hypnotizing wayward sound from Bulgaria!" (Tropicalidad, BE)
"…the band you shouldn't have missed" (FIP Radio, FR)
"Epic" (Deepground, DE)
Website: www.oratnitza.com
Facebook: Oratnitza
Youtube: www.youtube.com/oratnitza
Soundcloud: www.soundcloud.com/oratnitza
More at
www.gibelin.de
https://www.facebook.com/KlubBuditeliKoeln/ Клуб Будители / Klub Buditeli.